PROGESTION™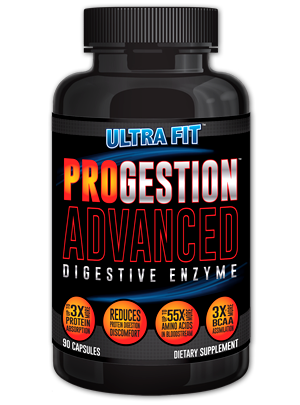 ADVANCED DIGESTIVE ENZYME
Your Price: $
17.99
90 Capsules
You Save $7.00
In Stock
• UP TO 3X MORE PROTEIN ABSORPTION†
• REDUCES PROTEIN DIGESTION DISCOMFORT†
• UP TO 55% MORE AMINO ACID UPTAKE†
• UP TO 3X MORE BRANCHED CHAIN AMINO ACID ASSIMILATION†

Click To View Nutritional Info »
$17.99
+ Shipping

About PROGESTION™
PROGESTION™ is a clinically researched bio-sufficient enzyme catalyst designed to help support muscle growth, improve muscle recovery and dramatically reduce stomach distress (bloating, nausea, cramping) commonly associated with protein consumption. PROGESTION™ pre-digests consumed protein to improve its absorption up to 3x, essentially making any protein source considerably more effective.† PROGESTION™ increases amino acid uptake by up to 55x, and can elevate Branch Chain Amino Acids (BCAA) levels 3x higher in the bloodstream.† PROGESTION™ also ensures smaller, non-immunogenic protein peptides are formed during protein digestion, which may help maintain normal C-Reactive Protein (CRP) levels.
PROGESTION™ is ideal for fitness enthusiasts, runners, bikers, weightlifters, active lifestyles or anyone who wants to get the most out of their protein supplements, ULTRA FIT™ nutrition bars and high protein meals. Maximize your protein with PROGESTION™.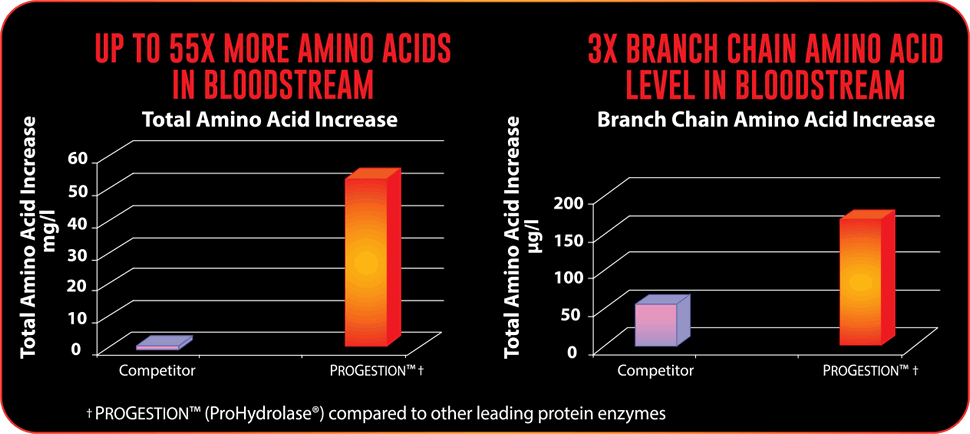 Why Protein?
Protein is essential for an active and healthy lifestyle. The healthy protein included in Ultra Fit™ products can help promote muscle maintenance, recovery and growth after strenuous exercise. To ensure your active body gets the nutrition it needs, protein should be consumed multiple times throughout the day and especially important to eat protein within 30 minutes after exercise. This will provide the amino acids necessary to rebuild muscle tissue that is damaged during intense, prolonged exercise. It can also increase the absorption of water from the intestines and improve muscle hydration. Ultra Fit™ products are ideal for anyone who wants a convenient and great tasting source of quality protein.
Understanding Protein Digestion
Whey protein is one of the richest sources of all nine essential amino acids that the body is unable to produce on its own. However, whey protein must first be processed into a usable form, which includes essential amino acids and beneficial peptides (i.e., Di and Tri-peptides).
To be effective, protein must be broken down into a smaller particle size within approximately 90 minutes of consumption. This transit time represents the time from which the whey powder passes from the stomach through the small intestine where digestion/absorption primarily occurs; from there it will be assembled into muscle protein (a bio-usable form). To visualize this process, think of a large table being moved into a room through a door that is too small. The table must first be broken down to pass through the doorway before it can be reassembled and used. Undigested whey protein will simply be excreted from the body, resulting in wasted amino acids.
Furthermore, when whey protein is not broken down into the smallest composition, it creates large peptides that can cause discomfort such as bloating, nausea and cramping. These symptoms should not be confused with lactose intolerance. Lactose is not present in whey isolates; therefore the underlining cause of the discomfort is peptide sensitivity.
†PROGESTION™ (ProHydrolase®) compared to other leading protein enzymes.
These statements have not been evaluated by the Food and Drug Administration. This product is not intended to diagnose, treat, cure, or prevent any disease.