PROLIEF™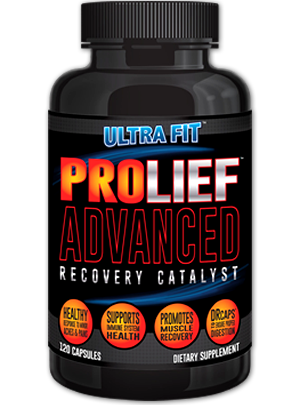 ADVANCED RECOVERY CATALYST
Your Price: $
24.99
120 CAPSULES
You Save $5.00
In Stock
• HEALTHY RESPONSE TO MINOR ACHES & PAINS*
• SUPPORTS IMMUNE SYSTEM HEALTH*
• PROMOTES MUSCLE RECOVERY*
• DRcaps® TO ENSURE PROPER DIGESTION

Click To View Nutritional Info »
$24.99
+ Shipping

About PROLIEF™
PROLIEF™ ensures a healthy and unique response to minor aches and pains. It supports immune health, healthy connective tissue integrity and aids muscle recovery. PROLIEF™ offers a broad spectrum of proteolytic systemic enzymes and unique combination of synergistic nutrients designed to assist in the body's normal repair mechanism to physical overexertion or everyday activities. PROLIEF™ supports the body's normal clearance and defense against an accumulation of fibrin and bradykinin peptides, to help promote healthy muscle, tendon and tissue recovery.
PROLIEF™ is delivered in innovative DRcaps® capsules to help protect ingredients from stomach acid, ensuring optimum product efficacy. Maximize a healthy response to minor aches & pains with PROLIEF™.
The following is a basic overview of the formula. We encourage you to research other unbiased websites, along with numerous clinical studies for more details on the ingredints in this exciting formula:
Fungal Protease (20,000 HUT): This proteolytic enzyme is used to help break down and digest damaged proteins that can become prevalent during overexertion. Also, proteolytic enzymes are used to help hydrolyze hemoglobin and support normal circulation.
Serrapeptase (40,000 SPU): Another example of a proteolytic enzyme which may be one of the most effective approaches to reducing the impact of overexertion on the joints and muscle tissue. The subject of a number of clinical studies, Serrapeptase is a keystone ingredient in the PROLIEF™ formula.
Bromelain (500,000 PU): Found in the stems of pineapples, this remarkable enzyme has been recognized by the Commission E in Germany for its many benefits including physical issues which result from injury. Because of its characterization as a proteolytic enzyme, Bromelain helps to metabolize damaged proteins that may occur as a result of overexertion or injury and also helps support normal circulation.
Papain (500,000 PU): Another proteolytic enzyme backed by numerous studies, papain is naturally found in the papaya fruit and has been found to be extremely effective in metabolizing and digesting damaged proteins.
Bacterial Protease (50,000 PC): Bacterial protease from Bacillus subtilis is included in this formula due to its broad substrate specificity and its ability to hydrolyze interior bonds of proteins, opening the potential for further hydrolysis by other proteins found in this formula. Basically, Bacterial protease compliments the other proteolytic enzymes found in this formulation by creating smaller peptides (from hydrolysis of interior protein bonds) for the other proteins to continue to further hydrolyze.
Devils Claw Root Extract (0.5% Harpagoside)(100mg): The natural properties of Devils Claw may be beneficial in diminishing the effects of overexertion or injury including muscle and routine lower back pain.
Ginger Root Extract (5% Gingerols)(100mg): Ginger Extract is included for its ability to support a more positive response by the body in dealing with the aches and pains caused by overexertion or injury.
White Willow Bark (30% Salicin)(100mg): The naturally-occurring level of Salicin in this remarkable herb is its key to benefits in dealing with aches and pains typically experienced from overexertion.
*These statements have not been evaluated by the Food and Drug Administration. This product is not intended to diagnose, treat, cure, or prevent any disease.